in family or between friends, go to adventure on a via ferrata thanks to via ferrata kit rental in aix-les-bains !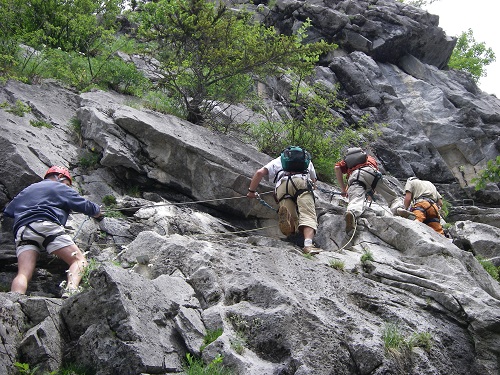 Rent our Via Ferrata Kit in Aix les Bains, take some height to watch beautiful landscapes of our region and its lake of Bourget, the biggest natural lake in France !
You often have to walk a little bit to join the beggining of the Via Ferrata, but you will be not disapointed when you will pratice during almost one hour to see a magical landscape, between lake, mountains and sky !
The
Via Ferrata
in
Savoie
and around
Aix les bains
are easy and doable by your own. But for the most complicated ones or if you want to be led by a
professionnal climbing guide
to have some explications about stones, nature and the creation of our actual beautiful landscape, do not hesitate to take
one of our guide
!
Two lunges, one carabiner a harness and a helmet, all the gears you need will be in our Via Ferrata Kit rental in Aix-les-Bains !
To rent one of our Via Ferrata Kit, you just have to come into the agency in Aix les Bains, near the lake. You will sign a rental contrat, for half a day, one day or all the week-end. When you have finished your Via Ferrata, come and get your kit back in the Grand Port of Aix les Bains, into our agency.