Stand Up Paddle rental Aix-les-Bains
STAND-UP PADDLE rental AIX LES BAINS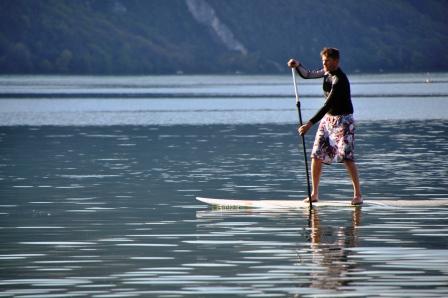 new in AIX-LES-BAINS !
Discover during one hour or during half a day this new way of sailing on the lake of Bourget starting from Grand Port at Aix les Bains !
On your feet, on your knees or just sit on your Stand Up Paddle, you have liberty of choice, so choose freedom ! You will sail in an independant way, visit all the cliffs present around the lake of Bourget. So, take your paddle and begin the adventure !
Come in the agency to pay and get all the necessery gears (life jacket, paddle, SUP...)
To rent, think to take an identity card and a caution (credit card)
Watch also our Giant Stand Up Paddle to enjoy the biggest natural lake in France (lake of Bourget) between friends or in family !
9 results found
Results 1-9 - Page 1/1
did you know it ?
Stand Up Paddle or "SUP" is the ancestor of surf ! It is Polynesian Kings who were the first one who practiced Stand Up Paddle on huge board helped by paddle built with tree trunk.
In the fourties, Duke Kahanamoku (former swimmer and surfer) and the Beach Boys of Waikiki in Hawaii used these boards to take pictures of tourists trying to surf on little ways.
For the new millenium, Laird Hamilton and Dave Kalama (american surfer living in Hawaii) refounded the activity by using paddle to train their body every day when the waves were absent. Little by little, they went to stronger waves.
Stand Up Paddle has also others uses : Yoga Stand Up Paddle, fishing, in river, floatable table...
WE HAVE ALSO A LOT OF OTHERS GEARS RENTAL NEXT TO AIX-LES-BAINS :
GIFT FOR PERSONS YOU LOVE
---
| | |
| --- | --- |
| | For party, for anniversary, un wedding or a stag/hen party, offer to persons you love a wonderful, discovery and cool moment. So think about Voucher Takamaka ! |
---
With a voucher, you offer a unique activitie of your choice among all of ours.